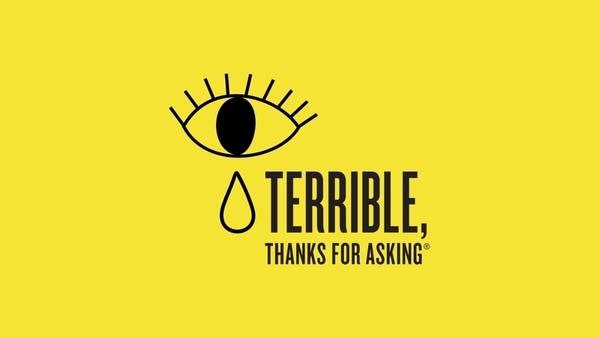 November 24, 2020
Happy(ish) Holidays 2020 - Transcript
This is a transcript of a "Terrible, Thanks for Asking" episode entitled "Happyish Holidays 2020." The text may not be in its final form and may be updated or revised in the future for accuracy.

Listen to the episode here.

——————


//singing// All right! Here goes Happyish Holidays, Marcel. Are the holidays happy for you? It's okay if they're not. Are the holidays happy for you? It's okay if they're not.

Um, just making up some freestyle songs, okay, Marcel? It's okay if you don't do holidays because you are an agnostic or an atheist. It's your call. The holidays are optional. 

Ooh, that was good. The holidays are optional! //singing//

Okay. here we go.


I'm Nora McInerny, and this is "Terrible, Thanks for Asking."


It's the holiday season here in the USA, and things are gonna be weird. Like, weirder than normal. Weirder than the time my mom gave me a water bra for Christmas and my dad left the room! Memories.

Way back in 2016, when this podcast was just starting out, our colleagues at APM offered us the opportunity to make a holiday special and I was like, "Eeeeeeeh, have you met me?" Do you know I'm a person whose husband died three days before Thanksgiving?

But I did it. I called it Happyish Holidays, because it felt right! Because, like a lot of people, this time of year is happy for me… and it's also other things, too! That year's Thanksgiving was not great, but as you'll hear in this episode, my family can laugh about it now! Point being, even hard years are worth acknowledging, worth remembering, worth documenting. And if you're listening to this show, maybe you feel the same way.

And this year, with all we've been through in the past 10 months, the holidays are going to be different. I personally come from a family where every holiday is different and our only tradition is... that we have no traditions. But 2020 is EVEN MORE DIFFERENT for all of us! Some people are relieved to not need to make up an excuse to bail on a family gathering. Some people are GUTTED to not get to be with their favorite people.

And all of us have had a LONELY year. We miss each other. We miss our friends. We miss normal life stuff, like trying to make up a food allergy to avoid our aunt's cooking, or trying to guess if what our brother gave us was regifted from his work party! 

At TTFA, I miss actually going on tour. I miss meeting you. I miss seeing your faces. I promise I will never take that for granted again.

So, we actually have something very special we've been putting together for you. I'm so grateful that we actually get to do it. because we've been thinking about it for a long time and feeling like, "God, can we pull this off?" And now we can.

It's this: On December 3rd, you're getting a new Happyish Holidays.. .and it's not going to be an episode. It's going to be a FREE live-stream video show. Not a video conference call, a legit live show… in your house. From my house. 

Like every Happyish Holidays or TTFA live show, we'll have special guests, we'll have your voices and stories, and we'll have some time to be together in the only way we can in 2020.

So even though we all feel alone right now, at least on this one night we can be alone together, which means we aren't really alone! Don't think about it too hard.

There are a few things I need from you: 
To RSVP. You can find a link in the podcast description. Please tell a friend about it! It's free, but we need you to RSVP. Get it? It rhymes. All free, RSVP. Go to HappyishHolidays.com to RSVP, you'll get all the details! We'll be making guest announcements soon, and when you RSVP, you'll get a custom-made TTFA Holiday Bucket List made by our friend Kelle Hampton. It's amazing, it's hilarious,  you're gonna love it. 


I need YOUR stories to make this special. Every single Happyish Holidays episode has included your holiday stories. Email me your worst holiday story. Make me laugh. Make me cry. Preferably both, but we're trying to make this one funny, okay? Email that to puppies@TTFA.org, subject line HOLIDAYS. I will tell one of my weirdest stories on the show, and I'm already cringing. That email is puppies@ttfa.org, subject line HOLIDAYS.


I need you to know we have a sponsor who is making all of this possible. It is a gift. It is a gift from our sponsor to you. The sponsor is Shutterfly. You've heard of them, obviously. Shutterfly is the company where I get all of my holiday cards personalized and printed, so that I can send them by… February. Look, that's not Shutterfly's fault. That's just a personality trait of mine. I like to extend the greetings of the season. It's where I buy personalized gifts. You can do that too at Shutterfly.com. If you need gift ideas, I am so good at it. Ask me. I mostly buy things for myself, but I feel like I have a pulse on what people want out of a personalized gift. Am I offering my shopping services to you? Absolutely? Very big deal that we get to do this live show. Shutterfly is making it possible. I am very, very, very grateful for them, so thank you.
To get us in the Happyish Holiday spirit, I thought we'd take you back to where it all began. The original Happyish Holidays episode from 2016, which includes some of my favorite interviews, including the hopes and dreams of some members of the Hot Young Widows Club. You will cry. You will laugh. You will feel a small spark of hope again.

Produced by our original producer, Hans Buetow, rest in peace. He's not dead, but he is not on this podcast anymore. Written by me in the depths of postpartum depression… This is the original Happyish Holidays from "Terrible, Thanks for Asking."


—


When we asked people for their worst holiday stories, we got a full inbox. And you know what everyone agreed really ruins a holiday? Death. 

Mark grew up in Minneapolis with a mother, Mary, who spent most of her life with chronic medical issues. Mary had Type 1 diabetes. She had rheumatoid arthritis and thyroid issues. And in trying to medicate herself with copious amounts of ibuprofen over many years, he damaged her kidneys, resulting ultimately in kidney failure that necessitated dialysis.

Mark himself was born with hearing loss, so he is no stranger to managing medical challenges. But Mary taught him by example how to flourish under difficult circumstances.


Mark: I would have to think just how I feel even if I get a really bad cold, how crappy and worthless I feel, and how I really don't want to do anything. And she spent 30 or 40 years being in pain or dealing with various health ailments and still getting up and doing all the things she was doing — raising me, raising my sister, going back to school and becoming a paralegal, being an aid at my school when I was a little kid, serving on the neighborhood board.


In 1997, just before she turned 51, Mark's mother developed an infection. Mark was 25 years old. 


Mark: Thanksgiving was mostly normal. The only thing that was different was my mom was in the hospital. And we had to fix a plate for her of all the normal Thanksgiving stuff because, you know, hospital Thanksgiving food is going to suck.


What some people may have seen as a bother or an inconvenience — interrupting your normal holiday routine to deliver food to a hospital bed — was just what Mark did. Mary was his mother. He didn't want her eating gross hospital food on Thanksgiving. 


Mark: After Thanksgiving, later on into December, that was when she suffered a series of small strokes. And she was pretty much bedridden, or she could stop dialysis. And if she stopped dialysis, then nature would take its course and she would pass. The doctor explained what these options were, and she was pretty much nodding her head at the "stop dialysis." And I think that between the pain of the arthritis and the kidney disease and all those complications, she was just done. 

And I was torn because, you know, on the one hand it's like… I mean, I was 25 at this point, so I mean, you don't want to say goodbye to your mom. But at the other hand, you realize that your mom's been alive for 51 years, and just about all of them have sucked because of pain and various, you know… and I don't want to make anyone live through more of that. 

And my grandmother was upset. She did not want to be giving up a daughter. I mean, I had medical power of attorney, or whatever that term is, and so I could have overruled and said "stay on dialysis."


This is a heavy choice at any time of year. And when Mark is faced with it, it's nearly Christmas. A time when Mark and his big, loving Polish family all convene in his grandmother's house for countless pierogis. And at 25, Mark has the power to decide whether this Christmas will be his mother's last. Whether he loses his mother. Whether his grandmother loses a daughter. And whether his mother can be free from nearly a lifetime of pain.


Mark: But I did what she wanted. And nobody really questioned it. That was about a week or so before Christmas. They told us that, you know, once you stop dialysis, it's going to be fairly quick. And one of the things that I think reinforces for me that she made the right choice was they said that one of the factors that would influence how quickly it would progress would be her appetite. And she had had a lousy appetite for a long time leading up to this, and the hospice nurses, when we came over, said, "She's had the best appetite we've seen." So I mean, she was ready.


Mary was born just before Christmas, so she celebrated her very last birthday in hospice, surrounded by her family and lots of flowers...


Mark: Because there wasn't any point in giving her birthday gifts.


And then it was Christmas. And even though Mark had made this monumental decision, things just sort of… progressed as normally as they could, given the circumstances. 


Mark: Our Christmas Eve was similar to Thanksgiving, where we had all the family together but she was in hospice care at that point. We were at my grandmother's house… this was as Christmas Eve had pretty much wrapped up, and we finished all the dishes and started to put everything in my grandma's house back in order… when they called us and said, "OK...she's getting close." 


So Mark and his family drop what they're doing and head to hospice to be there as Mary dies. 


Mark: She wasn't really talking, so we couldn't really have any conversation with her, but her eyes… we could see from her eyes she could still look and focus on us. So it's… this sounds mean, but you know, it's boring. It's drawn out, and there's really nothing to do but just sit there. And you don't really want to have conversations because it feels trivial, disrespectful.


By the way, this is not a mean thing to say. Death can be as tedious as it is holy and sacred. Do you have small talk? Do you eat snacks? Do you look at your phone? Play a crossword? Take a nap? The answer is yes. Or no. There is no answer. But as the hours pass, Christmas Eve turns into early Christmas Day. All over the world, kids are asleep, waiting for Santa, and Mark and his sister are waiting for their mother to die.


Mark: We spent four or five hours there together. We actually were at the point where her breaths were getting so drawn out in between that we kind of were like, "It's okay now." You know. "We're here." So we were kind of rotating, taking breaks from being bedside. And so my sister was bedside, but I wasn't, so I didn't actually see that final moment.


After all the waiting, after supporting his mother's decision, Mark was asleep for the last moments of his mother's life, in the small hours of Christmas Day. 

And of course, he's conflicted about that. But he did get to say goodbye to her before she died. He did get some peace. 


Mark: To know that it was largely painless at that point was, I guess, helpful for me.


Mark's mother died on Christmas. And I guess that makes this a sad story. But it's such a beautiful story too. At such a young age, with such a young mother, Mark was able to give her the only gift that she wanted. Even if it meant they would never have another Christmas together.

But almost 20 years later... Christmas still happens. And his family still celebrates it, pierogies and all. 

Mark Snyder works as an environmental scientist with the state of Minnesota and volunteers his time all over Minneapolis, where he lives with his adorable cats.

Coming up, a conversation about holidays, love and loss with Dr. Lucy Kalanithi, who wrote the moving epilogue to her late husband Paul's posthumous bestseller When Breath Becomes Air. This is "Terrible, Thanks for Asking."


—


So, we're back. You always know when you're doing something for the first time. We measure our relationships in particular in firsts. Your first kiss. Your first date. But your last things… your last kiss, your last date... can be harder to spot, even when the person you love has a terminal illness.

Lucy and I know each other because we know this feeling. Our husbands died within a few months of each other — mine from brain cancer. Hers from lung cancer. 

Lucy is Lucy Kalanithi. She is a doctor, a mother to a beautiful girl named Cady, and the widow of Dr. Paul Kalanithi, the author of the bestselling When Breath Becomes Air.


Nora: So your last Christmas together was Cady's first Christmas wasn't it? Did you know that that would be your last Christmas together? Did you have a feeling as like a doctor, or a wife or… a human?

Lucy: Yeah... I think I knew it was more likely than not the last Christmas.

Nora: Here it is… [knocking sound]

Lucy: [opens door] Hi! Enter! Hello!

Nora: Oh my god!

Lucy: Nice to meet you!

Nora: You're so tall!


I showed up at Lucy's house in Northern California in early fall. Fall is hard for me. Fall 2014 is when everything fell apart. When I had a miscarriage. When my father died a few days later. When my husband died a few weeks after that. Fall feels like something bad is about to happen, because this is when the bad things happened to me. This is when all my last things happened, and I didn't even see them coming. 

I use a photo storage service by a company that randomly sends me little presents from my past: a video, or a collection of photos from a specific period of time. The other day, it sent me a photo of my late husband, myself, and our then-not-even-2-year-old son. We were dressed up for Halloween.

In the photo, you notice that my costume is homemade, that I am mid-laugh. That my son is dressed as a hybrid of a rhino and a monkey. That my husband is wearing a full-on spiderman spandex outfit, including a mask that stretches over his head.

We look young. And happy. And silly. And we were.

But that photo also doesn't tell you that my husband had stage IV brain cancer, that he died 26 days after that photo was taken. That it was our last Halloween. That we were in the hardest days of our lives, but also, I think, the happiest days of my life. At least that I can remember.

Lucy watched her own husband… the father of her own toddler… go through cancer. Lucy gets me.


Lucy: It was, like, the fully worst and fully best moments happening almost simultaneously. But the fact of not, for example, that Christmas, where it's, like, probably this is the last Christmas... the fact of knowing that, it wasn't like, "seize the moment, enjoy every one," because it wasn't. It was more like... there is no future. So, like, this is it, I'm not, like, daydreaming about the future or, like, crowding my thoughts with all these expectations. It's just like… here we are, guys, and we love each other.


Before they died, our husbands, Paul and Aaron, were both young fathers. Young fathers who left behind toddlers who got one Christmas with their dads. One they have zero chance of remembering. So Lucy and I remember it for them. Lucy's husband's last Christmas was their daughter Cady's first. 


Lucy: You know, and she was like just starting to eat food, and she had stripy candy cane pajamas and, like, the trappings of that Christmas actually felt really good. And they were like something to do. And then we were at Paul's parents house where he grew up, with all our family. And it was just kind of great. 


It was great. Like my last Christmas with Aaron was great. Like that disaster of a Halloween was great. Because they were there. Because even their vague presence — sleeping off chemo in a bedroom down the hall — was presence. 


Nora: Maybe it's almost made the holidays, like, less important to me in some way because... it wasn't, like, that, "Oh we got to do, like, this very specific thing together," but it was just the fact of them, like, being there. You know and even just the fact of like Paul being there and being so sick, being three months away from his death on your last Christmas together but like, he was there.

Lucy: He was there. Right. Right. Right. He's there.


When someone you love deeply dies, you know for certain that you will never be normal again. You will never do another normal thing. You write yourself and your family a permission slip to excuse yourself from normal things like holiday traditions, like a homemade coupon good for one year of just not doing normal stuff. That's what I did! And that's what Lucy did. 


Lucy: Paul died in March in 2015. And the next Christmas... we... none of us, especially Paul's parents could stand to have it at their house. And so we did a totally new tradition, in which we all went to Palm Springs, California and rented a house with a pool. And my twin, we were following my twin sister there, because she and her extended family on the other side go there every Christmas, and we'd never done it. So it's like... we had a whole group of new people, these two other little cousins, my sister, her in-laws, a new house that we were renting, and just, like, a whole new flavor to Christmas.


I got one taste of the Untraditional Holiday and swore I was converted forever. I just wasn't a holiday person anymore. Not really. The holidays would never be the same for me, so why bother? Instead, I reasoned, I can just choose the times I am joyful and thankful, like, I'm at a cafeteria that only serves feelings. I'll be grateful every week at brunch with our extended family. I'll be generous all year round. 

If you'll notice, the only person who appears in this entire scenario I described? Is me. Me, a 33-year-old adult. Not my 3-year-old son.

Some of that is normal, right? Ralph was 22 months old when his father died. He doesn't miss him in the same way I do, because he didn't know him the same way that I did. And not just at the holidays, just… all year round.

A problem with grief is that we don't know enough about what it looks like, even when we're going through it. And what the people who love us don't know is that yeah, holidays can be hard, but really, it's every day that can be hard. You may have had 25 Christmases with your beloved, but that doesn't make Christmas mean more than the other 9,100 days you spent together over the years. You miss your person in the little things, every day.


Nora: Aaron was four years older than me. And, like, last year I turned the age that he was when he was diagnosed. And so for me, I spent all of age 32 being like... this is when Aaron knew, like, his life was going to end. But it's not as if Christmas and Thanksgiving or Father's Day or Mother's Day are, like, all that bad because... especially that first year, every single day is, like, "This is my first April 7th without Aaron. This is my first, like, this the first time I've gotten on an airplane and buckled the seat belt without him." Like just things like everything is the first thing that you've ever done. 

Lucy: And that age thing is interesting, because like I sometimes do that with my parents like... oh this is the age at which my mom had me or... whatever sort of milestones people have. The people who were important to you. But yeah, this is the biggest one. 


So yeah, I had written off the holidays because… they had lost meaning for me. But that's not how Lucy sees it.


Lucy: There is one thing that I'm really excited about for the holidays, which is... having a kid grow into them. And a lot of the traditions will be the same. But, like, seeing the holidays through her eyes or... in our town in California, there's one of those streets where everybody just goes completely insane for Christmas and it's called Candy Cane Lane or something, and it turns into a one way street in the neighborhood and people go park and walk around and look at these unreal Christmas lights. And so to think about doing that with her, this year, she's old enough to be really excited about the lights. I think that... I think having a child, like, reopens traditions for you or makes you appreciate traditions in a different way. Just like many other things to do with seeing the world through a child's eyes, you know. So I think that's, like, the tradition stretch into the future in a kind of expansive way.

Nora: Yeah Ralph will be... I mean, almost 4. Like… he will have a good understanding of it. Yeah... and… yeah wow, maybe I've just been extremely selfish about all of this stuff. Probably. But also because he's just sort of been along for the ride, you know? And like now he is, like, expanding into his own, like, person-ness and human-ness. 


What you're hearing right there is the sound of a person realizing that they might not be the most important person in the equation anymore. Maybe most people realize that the moment they see their baby, but I'm apparently a late bloomer. Or one of those flowers that opens and closes over and over again. That needs to be reminded to open up to the world around it.

The world around me, closest to me, is a son without a father. A boy who doesn't feel this season as a season of loss, or last things, or things that will never be. A boy who can give me new eyes. Who can force me off my own lonely planet and back onto earth.

Before I met Lucy, I read and re-read the very last paragraph of Paul's book. Lucy has read it so many times that she can recite it from memory. 


Lucy: Paul's talking about the way in which time and his relationship with the future and even the present is so different from when he'd been a future-oriented neurosurgeon. And now he's dying and then he says, "Will I write letters to my daughter. I don't know I don't even know what I would say. I only have one thing to say to her and this particular moment." And he says... "When you come to one of the many moments in life when you must give an account of yourself, provide a ledger of what you have been and done and meant to the world. Do not, I pray, discount that you filled a dying man's days with a sated joy, a joy unknown to me in all my prior years. A joy that does not hunger for more and more but rests satisfied. In this time, right now, that is an enormous thing." Like a little love letter to her. You know? See… I make the interviewer cry.

Nora: I know, I, like, read that when I was getting a pedicure.

Lucy: So relaxing.

Nora: I know, the lady next to me was like, "Are you okay?" and I was like, "Are YOU okay? Are any of us okay?"

Lucy: Ever?


Our husbands are gone. We have had our last moments with them. And now, we are allowed a lifetime of firsts with the children they gave us. We are still here. And how dumb am I to forget even momentarily what a gift that is? I'm dumb of me, but this is also a process.

Lucy summarized this really well when I asked her the question I ask all of our guests, the question I want everyone to answer more honestly. 


Nora: Lucy Kalanithi... how are you?

Lucy: Oh. I don't even know how to answer that. I'm becoming a person again. That's good. Like, I feel, like a human participating in what's happening on Earth. Ummm…

Nora: That's good. That is good.


That is what I'm going to do this year. Right now. Be a human. Going to participate in what's happening on Earth. I will try to stop making this a season of lasts and try to let it be a season of firsts. I will let this be a season that isn't just about me. I will let this be a season where I am more focused on the presence of what Aaron left me — our inquisitive, lovely son — than the absence Aaron left in me when he died. I'm going to try. I'll try.


So… that's my resolution. For today, for this season, for 2017. Dr. Lucy Kalanithi is awesome. What do you want, like what do I say? Lucy Kalanithi is a doctor, a mother, a public speaker, and she also wrote the epilogue to her late husband Dr. Paul Kalanithi's best-selling memoir When Breath Becomes Air. 


—


Comedian Amber Tozer has written one of the funniest books I've ever read. I laughed so hard, somebody on an airplane told me to keep it down. Seriously, if you still have gifts to buy for people, just get a copy of Sober Stick Figure.

Before Amber became a successful writer and comedian, she lived her wild, drunken 20s  in New York. And during one of those years, she came home to stay with her mom for Christmas, like she usually did...


Amber: It's Christmas Eve, and I wake up and I'm hungover… this is when I was really drinking heavily. And I have to go do some last-minute Christmas shopping. And, of course, I just go to Walmart, because that's what you do. And I buy some really bad Christmas gifts for my family.

Nora: It's the thought that counts.

Amber: Yeah, yeah! I'm a much better person now… that's the point. And I come home, and I'm still in my pajamas just hungover and just a little crusty, and I walk into the house and it's spotless. And I'm like, "What's going on?" And I go into my mom's room, and she's in there and she looks beautiful. She's in this dress. It was long and like a v-cut, but it was green, it wasn't white. And I said, "What… are you going to church?" And she was like, "Oh, what are you… what are you doing here?" And I said, "Well, it's Christmas Eve. I'm home for the holidays. I've been staying here for a few days. What do you mean, what am I doing here?"

Nora: I've been your child for 22 years. We've been doing this for literally 22 years.

Amber: "Hi, my name's Amber." She was like, "Oh, I just thought you were going to be gone today." I said, "I'm going to hang out here until we go to the Christmas Eve party." I said, "What are you… what's going on? You going to church?"

And she said, "No… Wayne and I are getting married today." And I was like, "What? Where?" And she said, "In the living room." And I said, "Why didn't you tell anybody?" And she said, "Well, I just… I didn't want to bother anyone with it."

I'm like, "Mom, this is huge." And I wasn't very articulate back then. I was hungover, I was young. I was just… I just had all of these emotions that I couldn't really spit out. So my natural thing was to just shut down. So I was like, "all right."

So then… I just feel like a fly on the wall at this point, because I'm not even supposed to be there. I wasn't even invited. And I was just filling up with rage. I was like "I can't believe this is…"

Nora: Also you're still in your pajama pants. Just so everyone knows.

Amber: I'm in my pajamas with, like, plastic bags from Walmart. And everyone's nice to me, you know… Wayne is like, "Oh hey, kid. I'm glad you're here. Now you can take some pictures." And he hands me this disposable camera. 

So they have this little ceremony in the living room. They were just standing there by the TV in front of a couch. And I sit off to the side on some stairs that lead to upstairs. And I think… you know, I'm supposed to be taking pictures of this, and I didn't want to, so I just took pictures of the dog. I did not even… I don't know if they have any pictures of that day because I was the only one with a camera, and I just took pictures of the dog. Because I was so upset. And they have this cute little ceremony. It's really short. And then I go upstairs and I send tons of emails to my friends being like, "You're not going to believe this, but I just walked in on my mom's wedding."

And it's over. But that night we had a huge party at my Aunt Sabrina's house, which is traditional — you know, there's like... 30 or 40 of us. And everyone is really upset with my mom. And she honestly… I think that's when she started to regret it.

And so we have the party, and my brother and I get buzzed. And I'm still staying with her. At her house. And it was late. I think it was, like, 1 or 2 in the morning. And we're sitting in her driveway, and we're just a little drunk, and like, "Can you believe it? I can't believe she did this." And I'm like, "Let's TP… let's go get toilet paper and TP her house for getting us a new dad for Christmas." And he's like, "Yeah!"

Nora: Wait. While she sleeps soundly on her wedding night.

Amber: Yes! God. I remember being in the house and it was dark… and just having to be real quiet, going to each of the bathrooms..

Nora: You were going to TP her with her own toilet paper?

Amber: Yes! I went into her house to steal her toilet paper to TP her house on her wedding day. And we need way more. And my mom's friend Jan, who is this hilarious hippie lady, buys every single family member a roll of paper towels for Christmas. As a joke. And we love it because you always need paper towels. 

Nora: Had you already unwrapped them or did you unwrap them?

Amber: I think we had to unwrap them!

Nora: So you were like the Grinch stealing Christmas…

Amber: Yeah!

Nora: And then…

Amber: [laughs] We had loads of paper towels from Hippie Jan that are wrapped up in Christmas. So I bring out all the paper towels that Jan had bought, and we TP'd her house with paper towels. And then I slept in the house. That's where I was staying! My brother went home… I slept in the house that I TP'd. 

And the next morning, most of it was gone because it was really windy. So it was, like, at the neighbor's house. All the paper towels had just… it looked like someone had just trashed the neighborhood. So upsetting.

Nora: So you didn't even get, like, the desired effect, which was… at the time… that night, you were like, "My mom's going to wake up and just know..." 

Amber: Yeah!

Nora: "We don't approve."

Amber: She's going to know we're upset. But I do… you know, I sort of feel bad telling this story, because my mom is incredible. She's not a horrible person. And I have more empathy for her now, because she honestly… in her head, I know she was thinking, "I don't want to bother anyone with this." Even though it seemed like a selfish move. I know her well, and I know she was thinking, "I've been divorced twice, and…" 

Thank God we all like Wayne… you know? It wasn't him at all! 

Nora: Did you open presents that day then?

Amber: Yeah! We did. It was sort of business as usual. And Wayne was there. And we were like, "Well, he's going to be here now." [laughs] Christmas. But he buys gifts, so that's nice. He always gives cash, so I was like, "All right. All riiiiight." 


Amber Tozer is a comedian and author. Her book, Sober Stick Figure, can be found anywhere books are sold, and it is so funny, I would not recommend reading it in a public place, because people found my laugh disturbing.


—


Moe: Can I ask you a question?

Gena: Yeah.

Moe: Are you afraid to make a mistake? Are you afraid to crumble?

Gena: Yeah. Absolutely.


When your life falls apart, people *always* want to know how you do it. How you keep putting one foot in front of the other. How you live. And the answer is mundane and true: You don't have a choice. It needs to be done. 


Nora: Well, should we call to order this first meeting of the Hot Young Widows Club? Should we?

Faye: We need, like, a gavel.

Nora: We do.


Right now, you're listening in to a top secret meeting of the Hot Young Widows Club. Okay, it's not a secret. We had it in my kitchen. 

The Hot Young Widows Club started as kind of a joke. Something my friend Moe and I would use to refer to our time together. But it's actually a real thing now.

What qualifies you to be in the Hot Young Widows Club? Um… your person has to die. That's basically it. You don't actually have to be a certain age or look a certain way, just to be clear.

And as the club, which is a secret group on Facebook, grows, it's cool and hard. Because someone found a group they needed, but they need it because they lost their person. Every new member signifies a huge loss, a hole punched into the center of someone else's universe. 

We rarely meet in person, because we're all over the world and a lot of us have kids and also, it's just hard when you're all grown-ups with full-time jobs and full-time grief. But I asked Faye and Gena and Moe to come over for Thai food and drinks and talk about the kind of stuff we talk about online in our secret Facebook group.


Nora: Okay, so, I'm Nora. My husband Aaron died of brain cancer in November 2014.

Moe: I'm Moe. My husband died by suicide in September 2014.

Gena: I'm Gena, and my husband dropped dead on a run in September of 2012. And I was 20 weeks pregnant.

Faya: I'm Faye. My husband Jason died in a bike accident involving the light rail last December, so it's almost a year.


Moe and Gena and Faye and I lost our husbands in wildly different ways. We have experienced each of these losses so differently. But we share this common thread of experience. Of losing our own personal north star, and then having to paw around in the darkness on our own. Through a full year of firsts… a first day without our person, a first week, a first Holiday. 

This is Gena:

Gena: We celebrated things differently. For Thanksgiving, I think we went to my brother's house instead. Usually we went to my mom and dad's but... I think the thing that bugged me the most was they had some other people there, and they… they just kind of avoided the topic, and you know they… they kind of treat you with kid gloves or something?

Nora: If you're not going to bring it up, it's not like I will then forget.

Gena: Exactly. It's not like it's not happening.

Moe: I call that… everyone stares at me, like the puppy that no one wants to adopt. If they do talk, it's a tilt and an "awwwwww."

Gena: Totally!

Moe: But they don't know what to say, and they don't say it, so they just stare and smile a lot, or… they have all these expressions but no one says anything, and you're just like…

Gena: Just acknowledge it.

Moe: He's… he's dead.

Nora: Talk about it.

Gena: Yeah. It happened.

Moe: And it's the holidays, and it sucks.


For those of us in the Hot Young Widows Club, all of our husbands are stuck in time. We will get older, and they will stay the same age, locked in the same year. But we do nothing for them or us or our children by trying to anchor ourselves to the past. The world, whether we like it or not, will keep spinning. And it's our job to move ourselves forward.

I don't believe in moving on. I never say moving on. Moving on implies that these people we loved are left behind, and anyone who has lost someone they love knows that is impossible. We don't move on. We move forward, and their love and loss remains a part of us, forever. So, that's our job. With a new year coming for us. 


Moe: Well… I turn 40 in 2017. And that's like...

Gena: So am I, Moe.

Moe: Yes! And feeling old and like... like, I've been really working hard at setting boundaries. And I also have a man friend… and figuring out what that is like. And being okay with saying that I have a man friend… because that is awesome. You get happy about things. But you're sad about it so I think it's like… figuring out what I want my relationships with everybody to be and that I get to choose how I want them to be. And if they don't like it, they don't have to be my friend, my family, or whatever. So I think I'm going to learn to be more selfish. Does that sound horrible?

All: Love it! Sounds good!

Moe: And… I want to get Botox.

Nora: Same.

All: [laugh]

Nora: 2017 is going to be just a weird year for me. The next time you see me, I will have a new face.

All: [laugh]

Nora: Faye, what do you want out of the next year?

Faye: I think for me, I spent 2016 like you, Nora, really wanting to make everyone comfortable and I didn't want to make anyone more sad, and I felt like... because I don't have kids I get to just focus on myself a lot. And I thought I would take a really long time to cope and figure this out and figure out who I was. And I found that the more I put my energy into that and made it, like, a priority to learn about myself and who I was without Jason, I found myself pretty quickly. And I purposefully did things like travelling by myself, just to see, like, what do I do when I'm travelling like… what decision do I make when there's like no one here to collaborate with...or to share the moment with? Jason and I had been together since we were like 18 and became adults together and so I had to figure out who I was. And eventually I came to the point where what I wanted for my future in 2016 was eventually to be married again.. Now 2017 looks weird and interesting and scary and crazy andI want to be unapologetic. I want to celebrate being unapologetic.

Moe: I think when you lose your partner or someone close to you, they die, you're reborn a new person… and then you're spending the rest of this time, like, learning this new life and this new person all at the same time. And it's like… I like parts of my new person. Being selfish is kind of awesome in some ways. I don't know if it's being selfish. I think it's learning yourself and being okay with it.

Faye: Yep. And just making decisions based on… like, what is my happiness look like and what am I pursuing in order to achieve that happiness vs. how can I make everyone else really comfortable. And I don't want to be rude to anyone, and I don't want to step on their toes, and I don't want to make anything harder for them. But at the same time, I think they need to understand too the steps that they need to go through to do the same thing like don't look to me to try and help you through this, like… we all need to I think just focus on ourselves a little bit.


Now it's Gena's turn. Gena's the most experienced of us widows. It's been four years for her. When her husband died, her daughter was a toddler, and her son wasn't even born yet. She gave birth a few months after her husband died. 


Gena: I think I was giving grief too much space in my life. I've been so focused on taking care of my kids and not letting things fall apart. And so in 2017 I think I would just like to pursue… more that makes me happy. I would like to be in a relationship again, and I haven't found anybody, and I think it's partially because I compare all of them to Brian, and that's a really hard, high level for someone to be compared to but… I really like a lot of who I am since he died, and I really realized how much I like being in charge. And that's great for my family, because I get to tell my kids what to do, and I get to make the decisions for their upbringing, and I'm really comfortable doing it. And I didn't know that I was going to be that way. My husband was always kind of the stronger parent. And I think the day that I had to tell Zoey that her dad was dead was the worst day of my life. And I think about how strong I've had to be for her, and how I would like to now focus a little bit on me.


None of us are where we expected to be. None of us would have ever found each other without these losses. And it's a weird thing, being grateful for people who are only in your life because of the worst thing that ever happened to you. But that's what we have. We have our dead husbands, and our weird lives, and each other. And a future we're walking towards, together, ready or not.


Nora: Well, thank you for doing this with me, everybody. Cheers. We're drinking, in case anybody was wondering, a new drink, invented by Moe. It's called the Hot Young Widow. It is part lemon tea, part ginger tea, and part Fireball.

Gena: And it's real good.

Nora: Ask for it by name at any bar. They're familiar with it.

All: [laugh]


I don't have any science to back this up but I'm pretty sure that the worst parts of us comes out in various parking lots during this time of year. You know why? Because even if you are Susie Holidays, this stuff is stressful! I promise I'm not a Grinch, and I hope you all have the best holiday season ever. Or, if you're having the worst holiday season, you just skip it altogether and go see all the movies or something. You're totally allowed, and I wish someone would have told me that back when I was trying to choke down mashed potatoes before my husband had even been cremated. You're totally allowed to love the holidays, or hate them, or to want to love them and then actually decide in the middle of dinner that you hate them again. You are allowed to decorate your whole house like you're a real-life Pinterest Board or not even bother. You're allowed all of your multitudes, and all of your feelings. Every day, of course. But especially these days. 
—
Hi, it's 2020 Nora McInerny again. Now that you're done with the show, don't you want to join us for a live version? Plus, now that I'm four years into this job, I'm much better at it! 

I hope you can make it. Nothing makes me feel more energized than doing this kind of event with you. In person, would prefer it. But also would not, because right now is just not the time to be, you know, respirating in a room with a thousand people. Nothing makes me happier than knowing we get to make this show FREE for you this year.

We are going live on December 3rd, trying to make the holidays a little less terrible for all of us. Get the details in the episode description or at HappyishHolidays.com.

Until then, keep the bar low. Keep your spirits wherever they feel comfortable. And go check out our presenting sponsor, Shutterfly.com.

Okay. No one asked, but I'm just going to give you one little gift idea. One little gift idea. Okay? Playing cards… with pictures of my tortoise on them. K? If you're listening to this and you're related to me, that might be what you're getting. That might be what everyone is getting is playing cards with pictures of my tortoise on them. If you need pictures of my tortoise, you just let me know. 

Anyway, we will see you at the live show December 3rd. And if you're listening to this after the show, don't despair. We're pulling together more live online shows until we're able to gather again, and then we'll take this show back on the road. Go to HappyishHolidays.com and RSVP! See you soon!



This has been "Terrible, Thanks for Asking." This episode was reproduced, reproduced all over again by Marcel Malekebu. We got help from only Marcel. Marcel and only Marcel. Also Hannah Meacock Ross, Jordan Turgeon, Jeyca Maldonada-Medina and, as always, Phyllis Fletcher.

We are a production of American Public Media. Our theme music is by Geoffrey Lamar Wilson. 

And… oh! We've got hot new merch! If you're looking for holiday gifts, go to TTFAmerch.com.